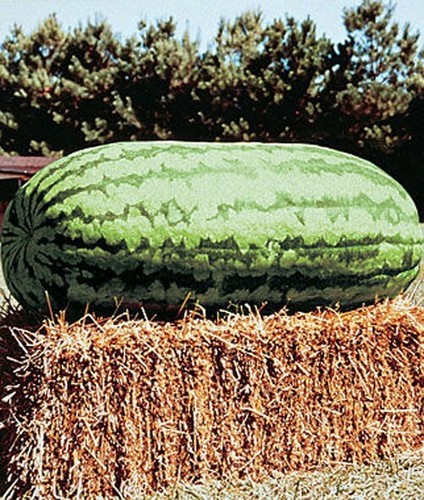 Giant Watermelon seeds -50 to 400 LBS - Carolina Cross Watermelon seeds. Shipped with USPS First Class Package. These enormous Heirloom watermelons, many over 200 lb, are oblong with light green stripes and are ready to harvest just 100 days after sowing. They are well known for their massive award winning size and delicious taste. Many are over 200lbs -- 12 seeds per package. GARDEN HINTS: For early fruiting and to overcome a short growing season, start seeds in a warm, well-lighted indoor area 3 to 4 weeks before last spring frost. Before transfer to garden, accustom plants to outdoor conditions by moving to a sheltered area outside for a week. Grow on plastic mulch to control weeds, conserve soil moisture and protect fruit by keeping it off the ground.
ORGANICALLY GROWN Sugar Baby Watermelon Seeds, Extra Sweet, Productive, Heirloom, NON-GMO. (Citrullus lanatus) The #1 icebox sized melon! Early! This reliable, somewhat drought-tolerant watermelon was developed in 1959. The cute, round, 5-6 pound fruits have reddish orange flesh underneath a rind that is nearly black when ripe. Sugar Baby grows to a fridge friendly size and is a perfect choice for small gardens. Prolific, sweet, and perfectly sized for family desserts. A must to try when first trying to grow watermelons! Tender Annual. 75 days. SOIL Temperature for Germination: 70-85 F Planting Depth: 1" Germination: 21 Days Days to Maturity: 75 days Height At Maturity: Vine Height: 15-24 inches Sun/Shade: Full Sun Spacing After Thinning: 4-5 feet Germination Rate: 98% Germination Soak the seeds overnight before planting to soften the hard seed coat and speed germination. How to Grow Soil and Water: Watermelon prefers light, loamy, fertile, deep, well-draining soil with a pH of 5.5-6.5. Add plenty of organic matter. Water plants amply until setting out, then water more sparingly. Mulch to prevent weed competition. Planting and Growing: Start seeds indoors 2-3 weeks before the last frost or sow seeds directly after frost. Set out 3-4 transplants per hill, selecting the strongest two when vines are 1'-2' long. Watermelons are large vining plants that can take over an extensive garden space. They can be trellised, but use slings to support the developing fruit. Harvesting and Storage: Harvest melons when the tendril closest to the stem turns dry and brown and the stem becomes brittle. Eat fresh, freeze flesh in a honey-based syrup, or pickle the rind. Store Seeds: Store seeds away from children, sealed in their packaging in a cool, dry, dark place, or in a fridge. Never store them in a freezer as the sudden temperature drop is likely to kill them. Don't leave the seeds in direct sunlight as the heat generated may kill.

Purple Egrow Watermelon Seeds Garden Edible Fruit Seeds (20-Pack)

Yellow Egrow Watermelon Seeds Garden Edible Fruit Seeds (20-Pack)

Egrow 50Pcs/Pack Watermelon Seeds Garden Colorful Edible Green Yellow White Watermelon Seeds

Egrow 50Pcs/Bag Mini Watermelon Seeds Thumb Watermelon Seeds Mini Watermelon Fruit Seeds Indoor Small Balcony Pot Planting for Home and Garden

Gardening Giant Sweet Black Watermelon Seeds Fantastic Best Healthy Edible (80-Pack)
This is only an example of what you might find here
SUGAR BABY WATERMELON
WINNER/ BUYER GETS 55 SEEDS!!


Annual
Produces edible fruit
Vining plant
Full sun
73 days to maturity

This is a sweet juicy, deep red-fleshed watermelon that averages about 10 lbs!
Matures quickly for those with shorter growing season. But can be grown in warmer areas as well.
Fruits measure about 8" by 8." Great summer treat!! Comes with planting instructions.